Als (toekomstig) community manager is Twitter een handig platform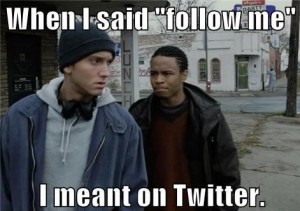 om te communiceren. Je kan in een kort bericht je mening verkondigen of iemand anders zijn mening delen.
Je deelt relevante content die andere followers (hopelijk) oppikken en verder delen.
Via je tweet kan je je volgers in een bepaalde richting sturen, voorzie een link in je tweet naar een artikel dat je schreef, een product dat je wil promoten, je website, je blog.
Probeer dit zo afwisselend mogelijk te doen!
Hou er ook rekening mee dat je volgers je ook weer snel kunnen ontvolgen als je té veel (onnuttige) tweets plaatst.
Natuurlijk dient een social media platform vooral voor interactie. Grijp je kans om in conversatie te gaan met je klanten. Vraag hun mening, reageer op hun vragen, help ze met problemen en vooral: zorg dat ze gehoord worden.
Naast je content is ook je bio en avatar belangrijk. Zorg voor een korte en leuke beschrijving in je bio, dit is eigenlijk je persoonlijk visitekaartje. Besteed hier dus zeker aandacht aan en schrijf een kort zinnetje over jezelf of maak gebruik van woorden of hashtags.
Als laatste wil ik je nog meegeven: wees interessant! Deel je volgers niet 3 keer per dag mee wat je gaat eten of dat je weeral een koffie drinkt of dat je bus weeral te laat is.
MAAR welke mensen zijn wél interessant op Twitter?
Dries Buytaert, cto Acquia, @dries, Klout score 65, following 7, followers 12.105
Clo Willaerts, business unit manager bij Sanoma Belgium, @bnox, Klout score 65, following 4.314, followers 8.994.
Xavier Damman, webondernemer & medeoprichter Storify, @xdamman, Klout score 60, following 318, followers 2.545.
Florence M., blogster en social media consultant, @flexyflow, Klout score 59, following 1.123, followers 2.332.
Robin Wauters, blogger Tech Crunch, @robinwauters, Klout score 64, following 4.100, followers 16.353.
Bron: http://datanews.knack.be/ict/wie-moet-je-volgen-in-de-belgische-twittosfeer/article-normal-279397.html